With STEP 2 kit students shall enter in the world of coding. It comes with Arduino* based programmable block called ProLogic. It also provides an easy drag-n-drop viasual coding environment. Its programming capability opens up a whole lot of possibility to what you can do with Cretiles. This kit can also be used without coding as well.
The kit comes with multiple sensors, variety of motors, Transmitter/Receiver, Logic Gates and lot more other functionalities.
Cretile is integrated with MIT App Inventor*. It allows your to make your own Android application very easily. You can make your own applications and then control Cretile kit through it. e.g. Take a photo when motion sensor detects motion in the room or switch ON table lamp with you get a specific SMS/Text is received.
Pick any of the Cretile blocks & simply connect them to each other

and they start to work together.

| | |
| --- | --- |
| | It comes with a 100+ pages Maker's Book that explains each Cretile block in detail using quick & simple experiments. The book also has a large number of project ideas with step-by-step guide on how to make those. |
| | You can also learn make interesting project from numarious videos from our YouTube Channel - Visit bit.ly/cretile |
It offers a very easy to use visul programming tool. Students can easily write codie for Arduino* based Programmable block called ProLogic. See below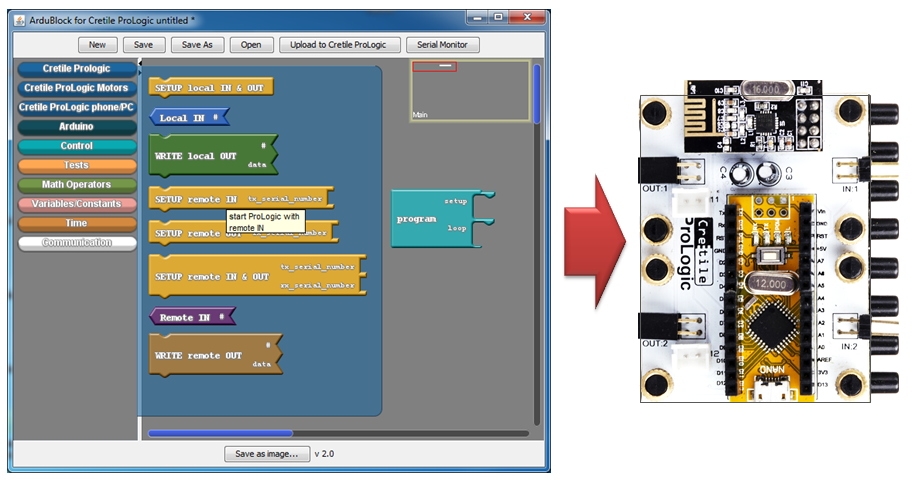 Kit Contains 28 Cretiles and accessories:
ProLogic: Arduino* based Programmable Cretile
Battery/Power – 1
Connectivity Sensor
Limit Switch
Moisture Sensor
Motion Sensor
Delay/pulse
Push Button – 1
Push Button – 2
Receiver
Servo Motor
Servo Motor Driver
Sound Sensor
Transmitter
U-Right
USB Cable
Wire Module
AND
OR
Toggle
Pulley
OTG Agapter