STEP 1 kit as the name suggest acts as a first step for students in the world of STEM education. This is an awesome Do-it-Yourself kit of modular Electronics, Robotics building blocks. This kit requires no coding.
It is a perfect kit for beginners who want to make school science or model projects or just hobby projects. It gives you good understanding of different electronic component and how they can be used in electronics or robotic projects.
Pick any of the Cretile blocks & simply connect them to each other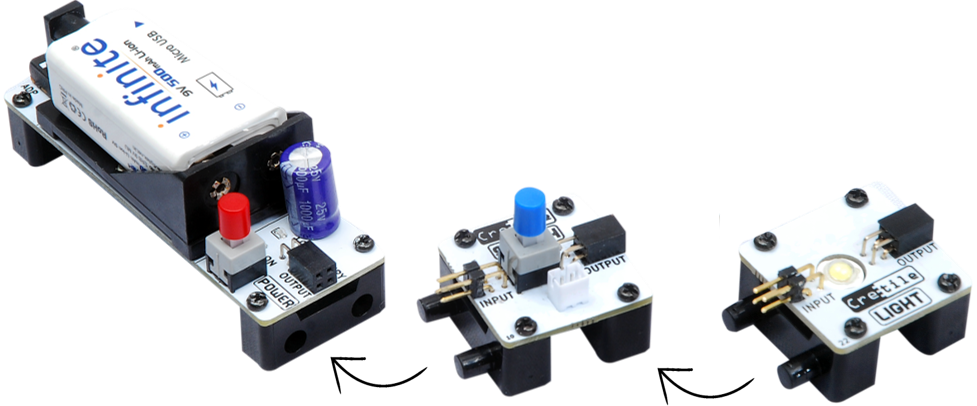 and they start to work together.

| | |
| --- | --- |
| | It comes with a 100+ pages Maker's Book that explains each Cretile block in detail using quick & simple experiments. The book also has a large number of project ideas with step-by-step guide on how to make those. |
| | Alongwith the kit you also get access to a FREE Video Course. |
| | You can also learn make interesting project from numarious videos from our YouTube Channel - Visit bit.ly/cretile |
Kit contains 22 Cretiles and Accessories:
Motor with Speed & Direction control- 1
Motor with Speed & Direction control- 2
Light
Buzzer
Light Sensor
Obstacle Sensor - 1
Obstacle Sensor - 2
NOT Gate
Copy
Dimmer
Switch
Battery Supply
High Speed DC Motor
Sensor Base - 1
Sensor Base - 2
Submersible Water Pump
Plastic Fan Blade
Robotic Wheel - 1

Robotic Wheel - 2

Pipe for pump
Small Wheel
A USB rechargeable 9V battery
Your projects can now move, make sound, sense environment, emit light & take decisions!
Check out our other kits: Cretile Voyager & Cretile Pioneer Kit. There are many more Cretiles in addition to those provided in this kit. Please bowse other kits and individual Cretile section.