Cretile - Automatic Morning Plant Watering DIY System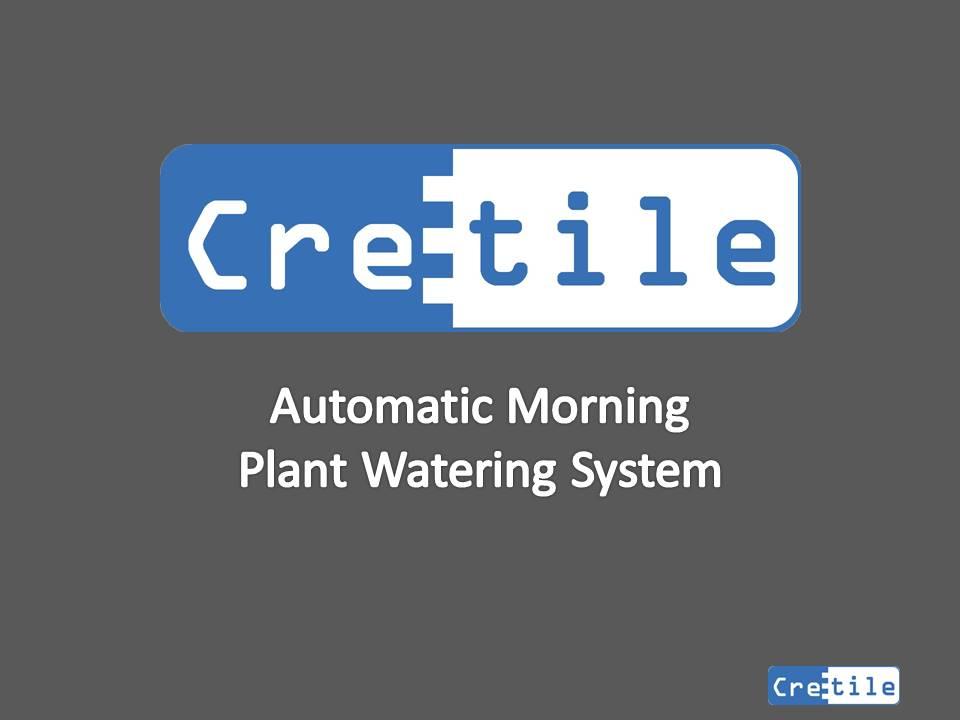 1. What you need?
You need a an immercible water pump & Cretile Primary Combo Kit to make this project. You can also grab below individual Cretiles instead.
1. Cretile Power (You can choose to use Cretile Battery instead)
2. Cretile Light Sensor
3. Cretile Threshold
4. Cretile Pulse Delay
5. Cretile Motor
6. A Cretile Compatible immercible water pump
7. Water pipe that fits in water pump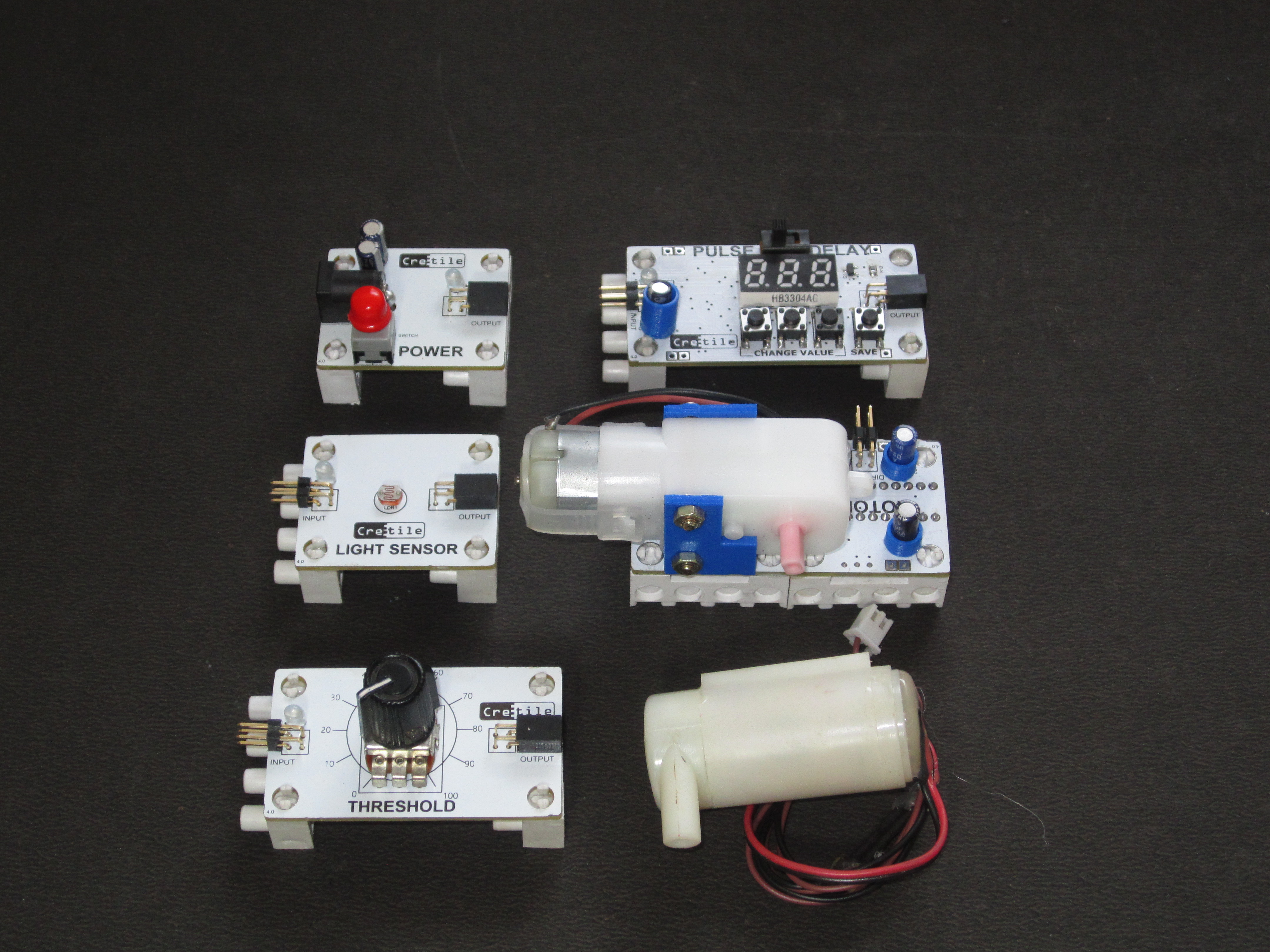 Let's start building it
Start with a Cretile Power. (You can choose to use Cretile Battery instead)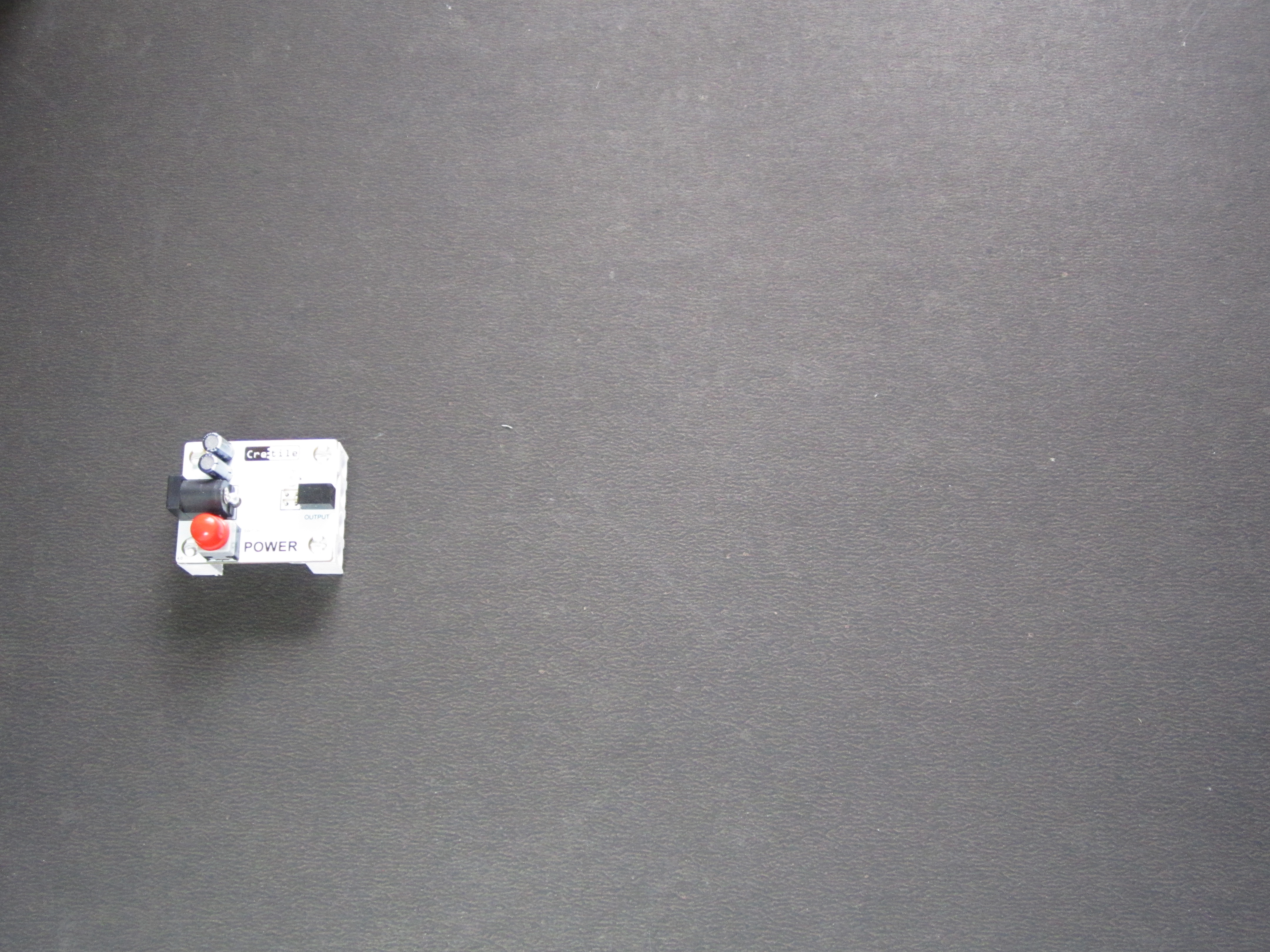 2. Connect Light Sensor
Light sensor will detect the morning time. Cretile Light Sensor generates output based on amount of light shining on it. Higher the amount of light, higher the output.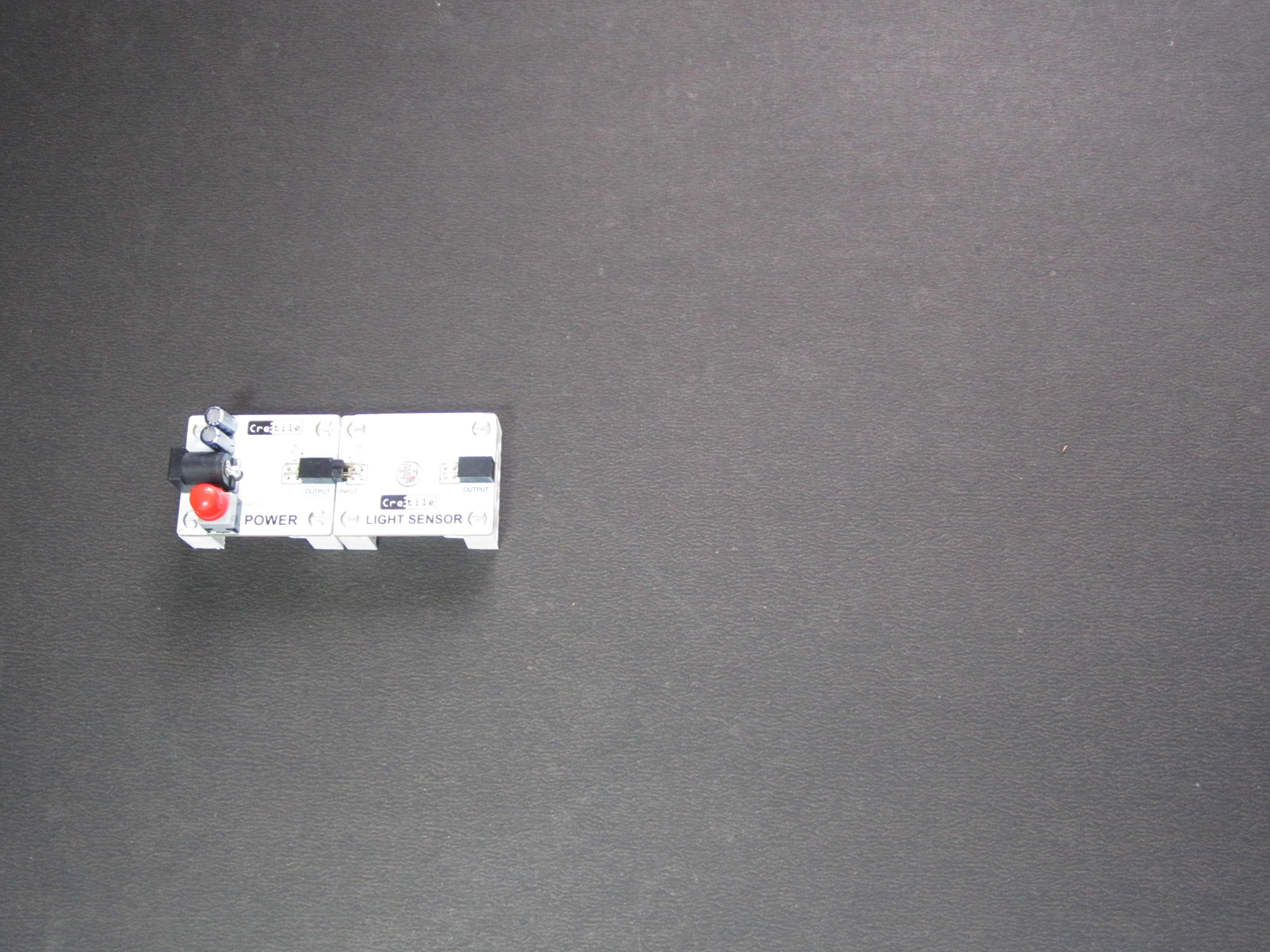 3. Further connect Cretile Threshold
Cretile Threshold decides at what light level the watering will start. Understand that Cretile light sensor generates output as soon as light shines on it. The output could be small or quite high.
Cretile Threshold is useful in projects where you want action to happen only if input is more than certain value. If input is less than dial position, the output remains OFF. Output becomes ON only when input supplied is higher than what is set on the dial.
In this case, with Cretile Threshold we can control that the watering should start only if certain amount of light shines on it.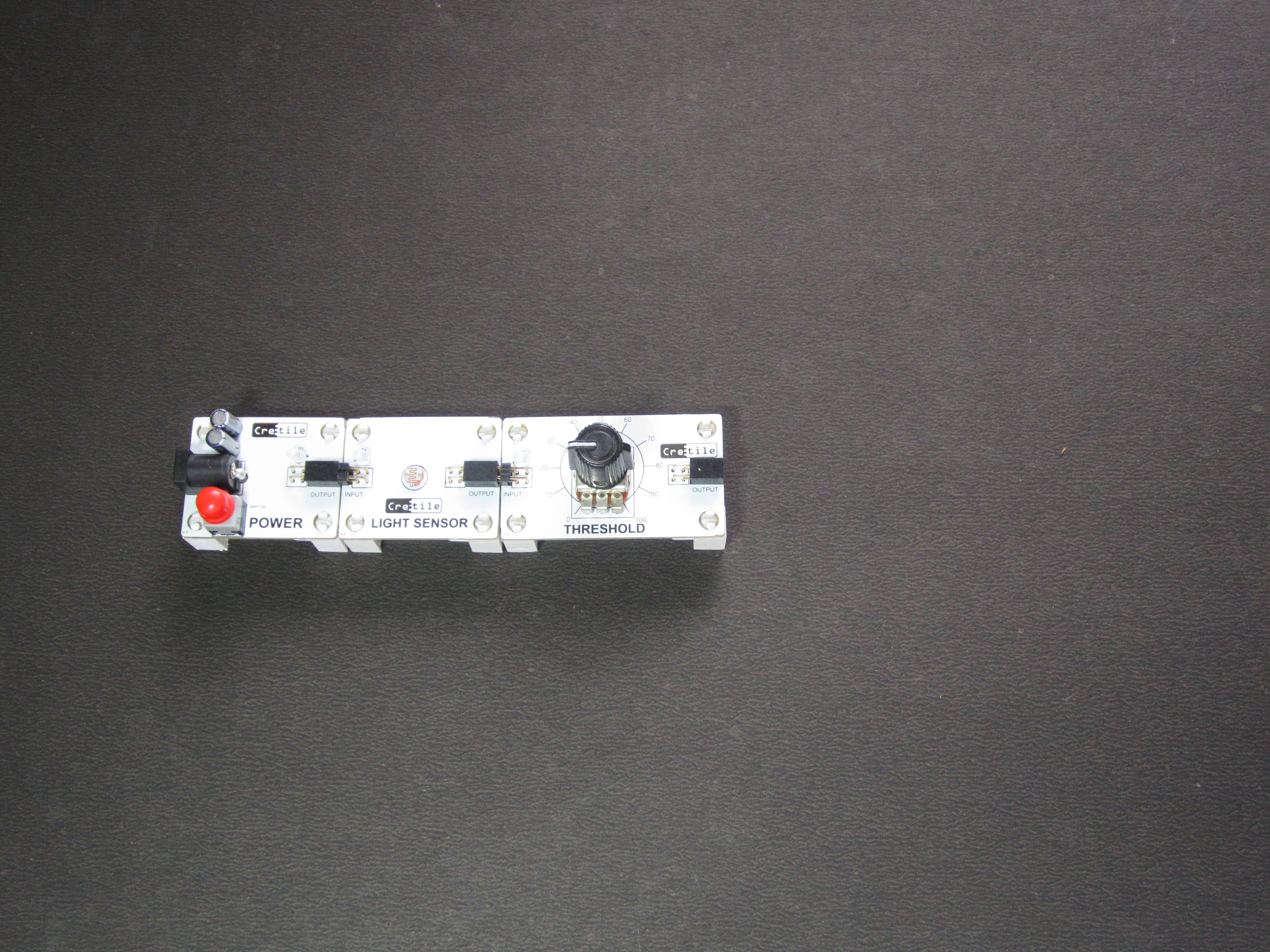 4. Connect Cretile Pulse/Delay to control the time for watering
Cretile Pulse is used in situations where you want the action to happen for only certain time. In this case we will decide the time for watering.

5. Connect Cretile Motor and place a water pump in place of Motor
a. Connect Cretile Motor
b. Remove the Motor connector
c. Place the water pump connector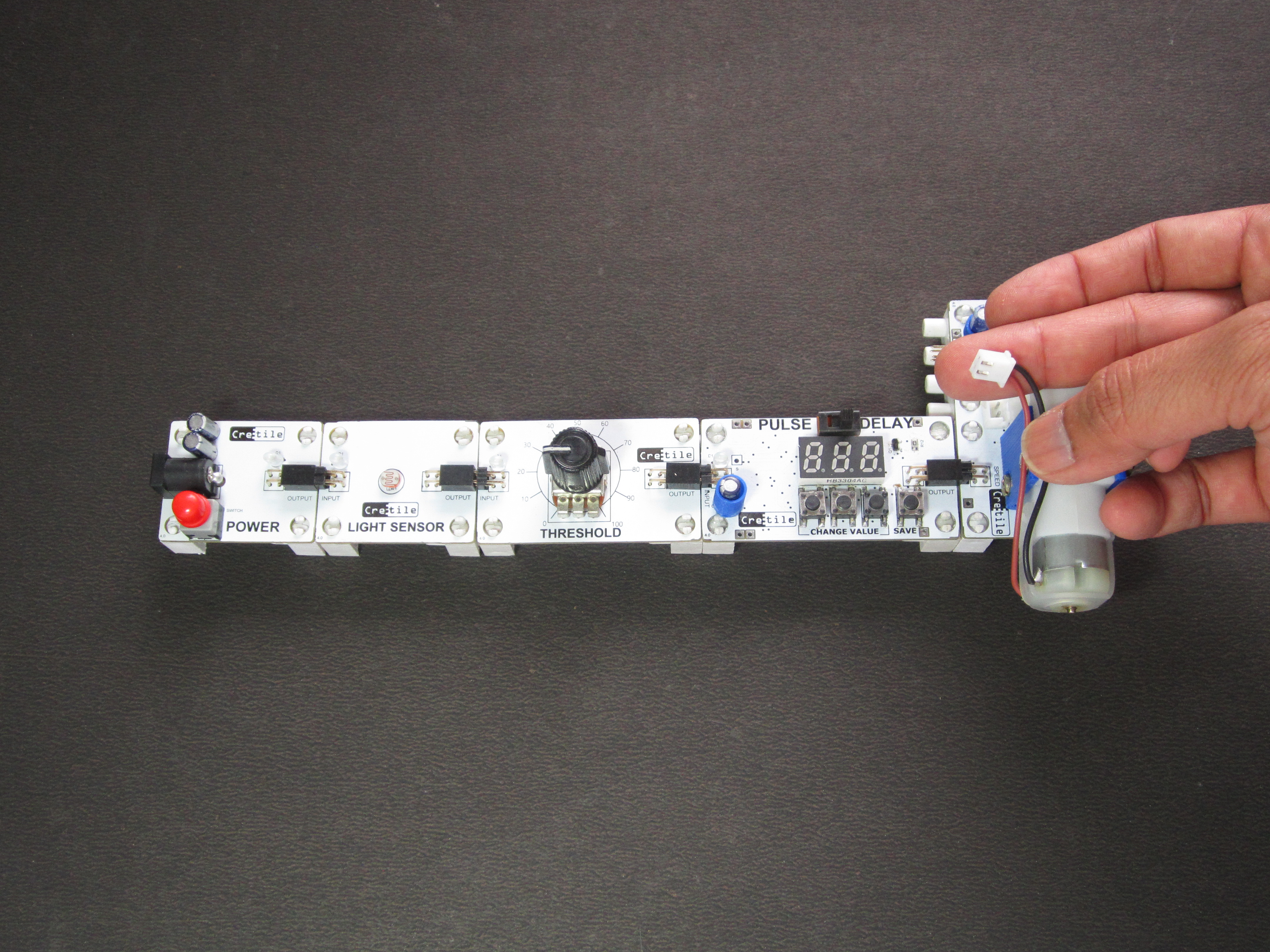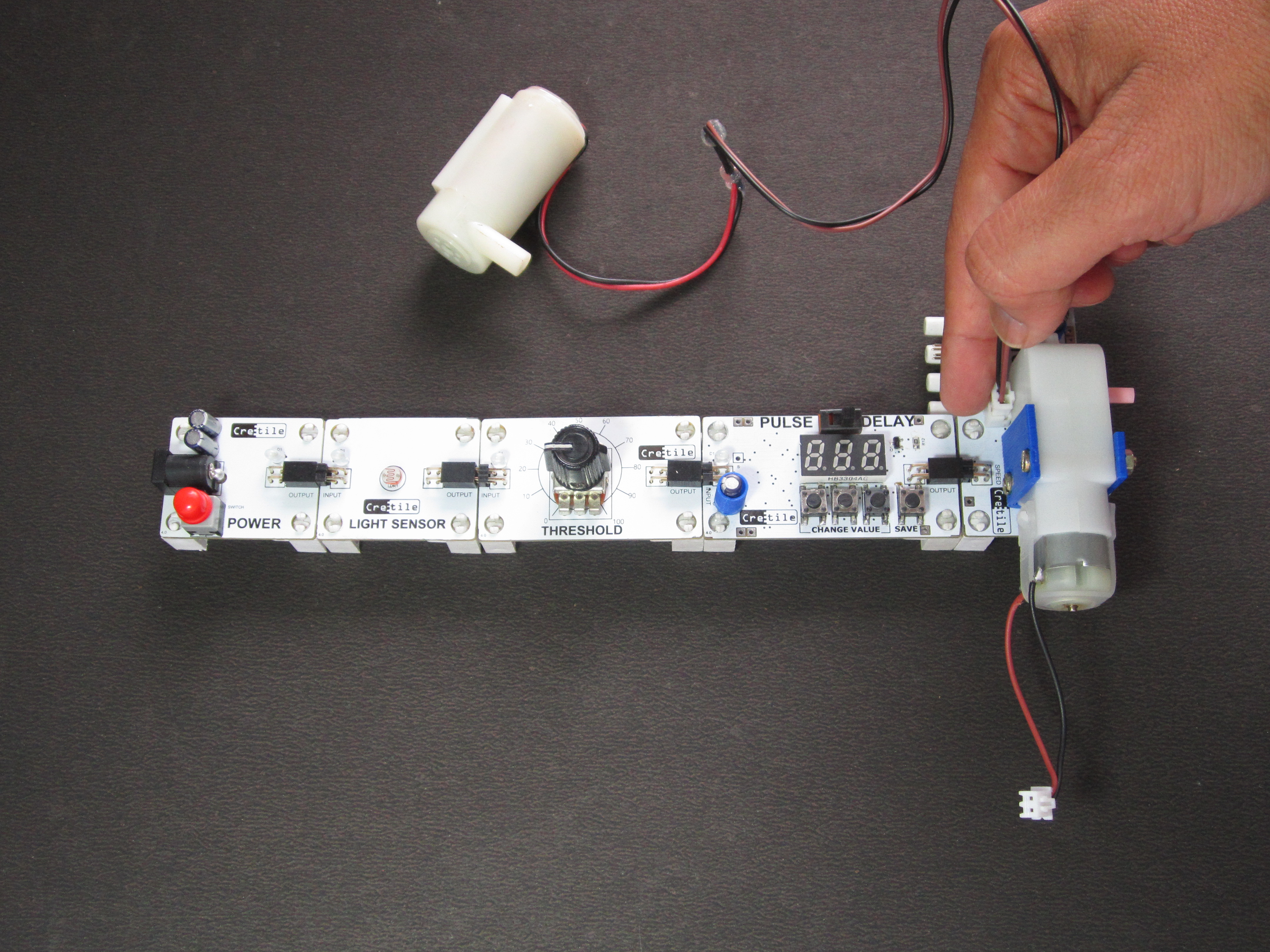 6. Let's Power ON the assembly and do the setting
a. Connect a compatible DC power adapter to Cretile Power
b. Power ON the assembly with swtich on the Cretile Power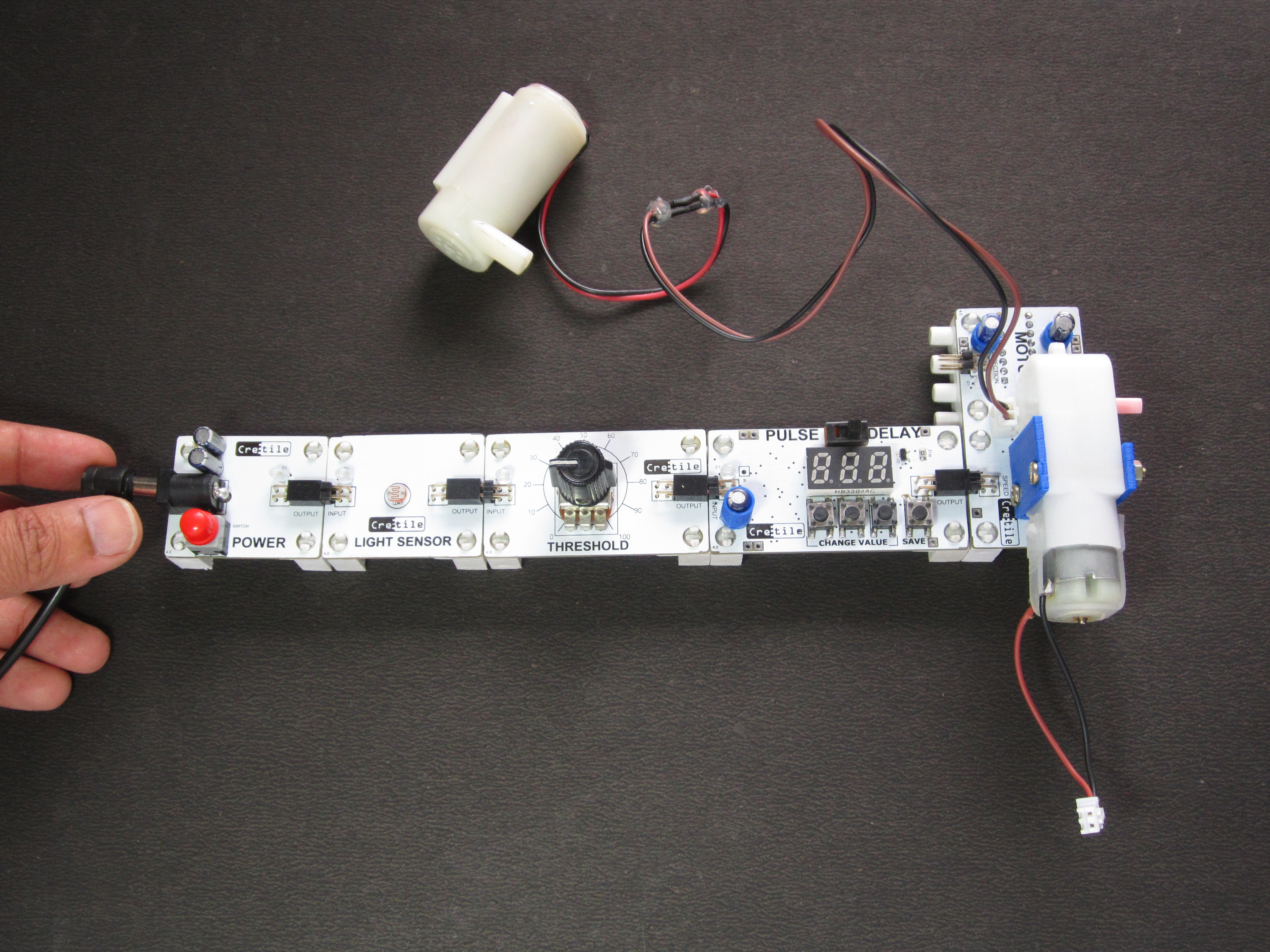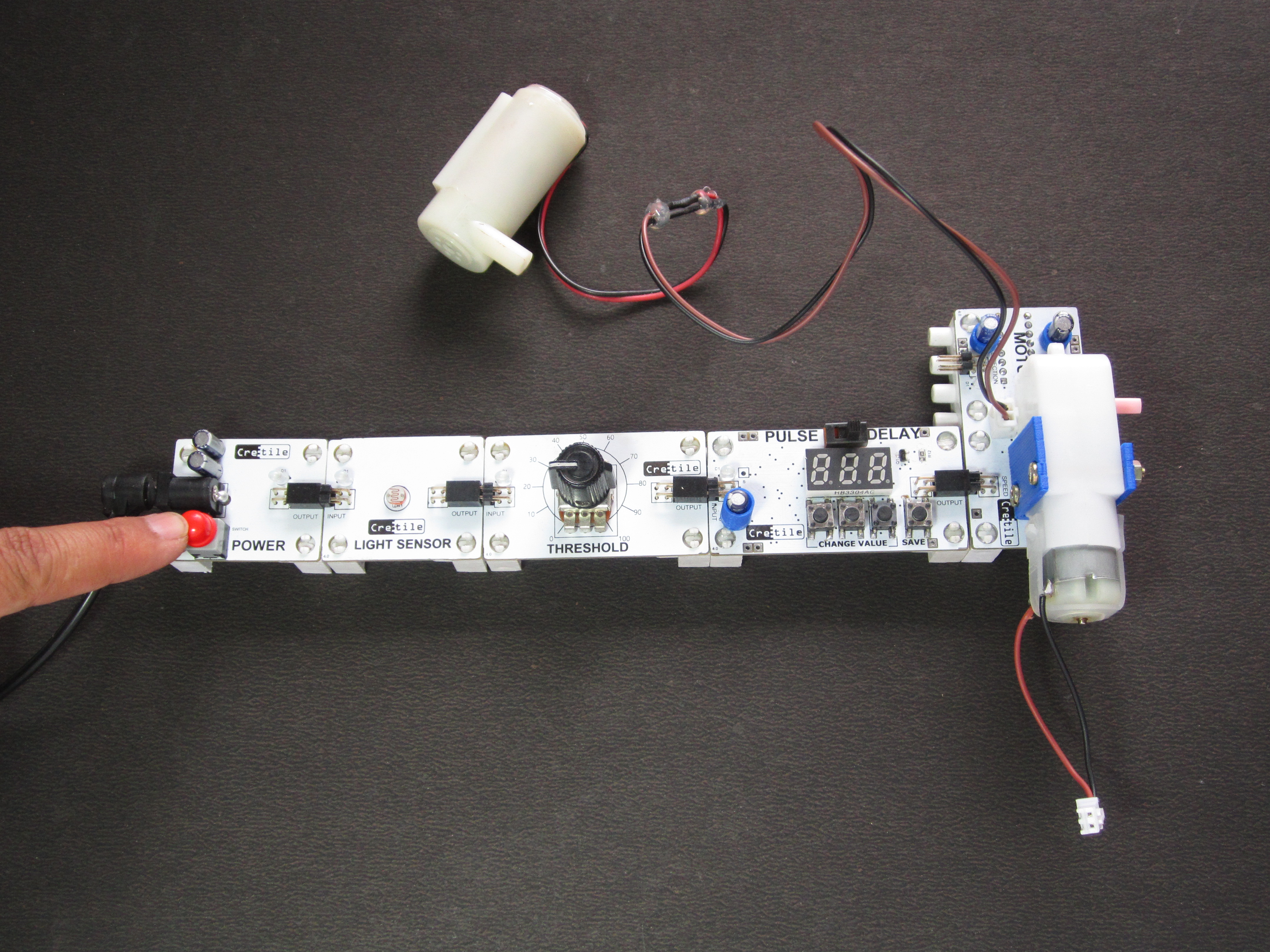 7. Set the time for watering
a. Put the Cretile Pulse/Delay in 'Pulse' mode using of mode switch
b. Set the Pulse value to required number of seconds using "Change Value" Switches and "Save" it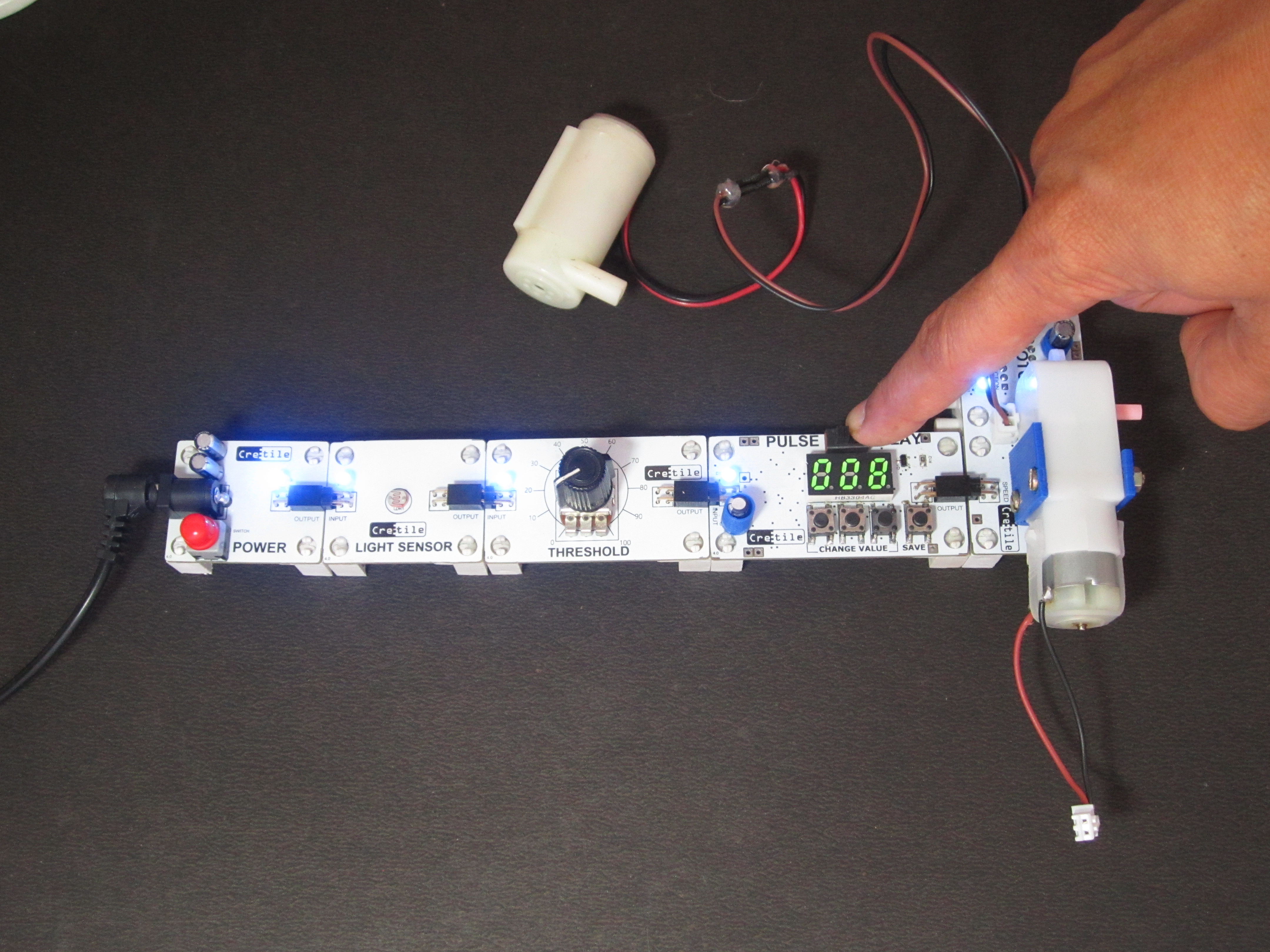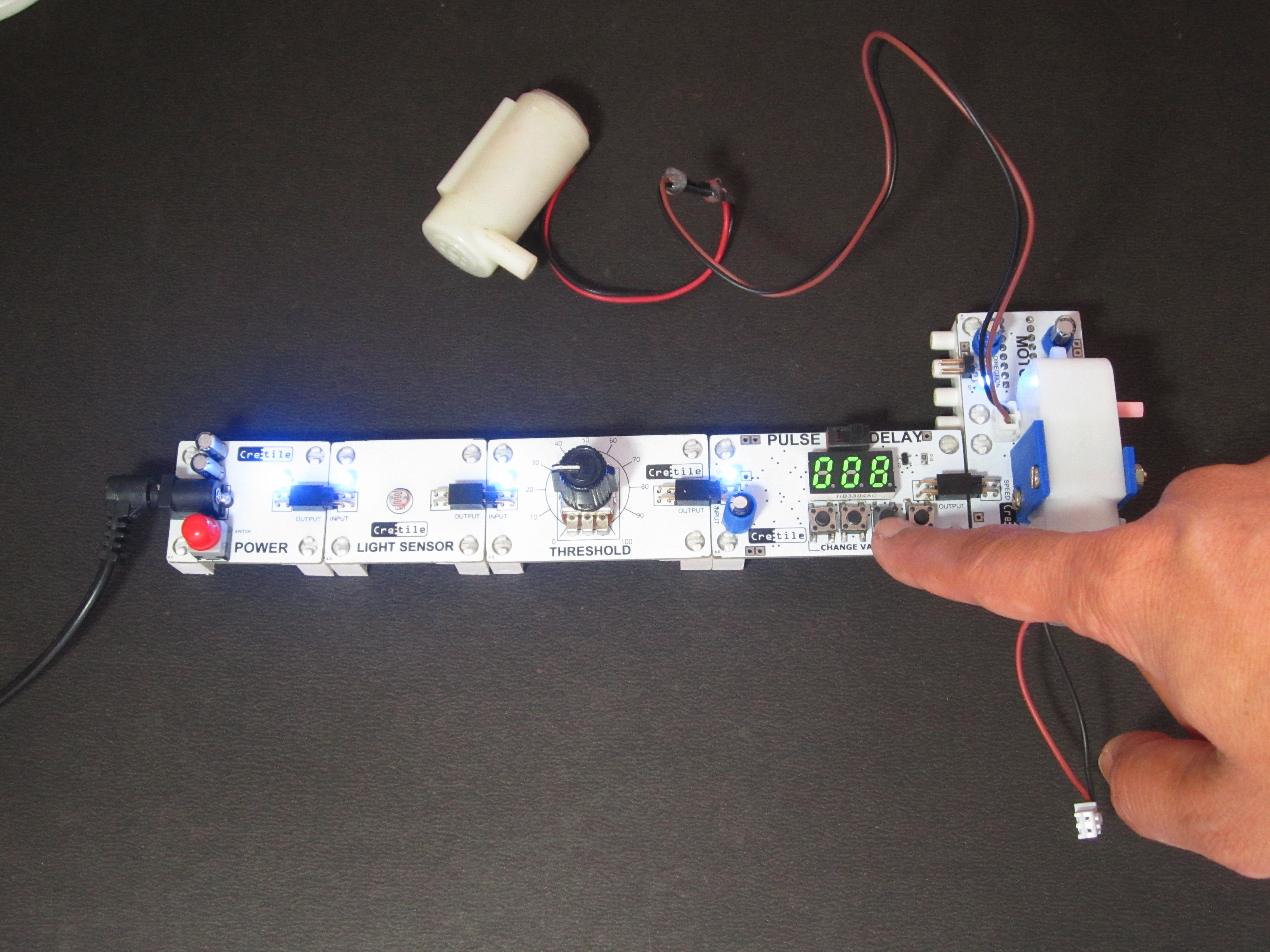 8. Adjust Cretile Threshold
Adjust threshold to decide the light level at which the watering should start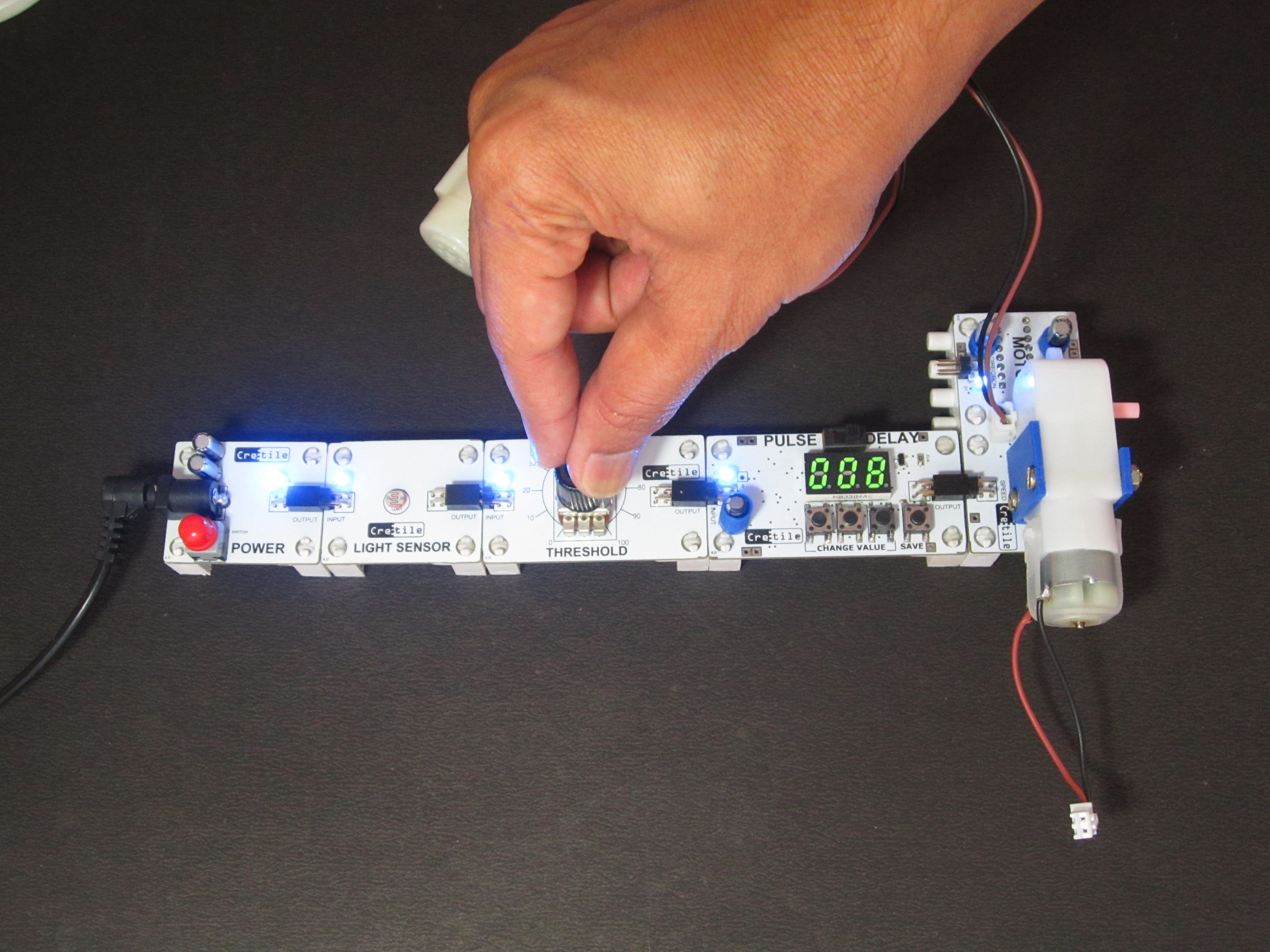 9. Put it to work!
Connect sufficient length of water pipe to Pump. Take a water storage and immerse the water pump fully in it. Keep it at a place where sunlight or any other light source shall shine on it.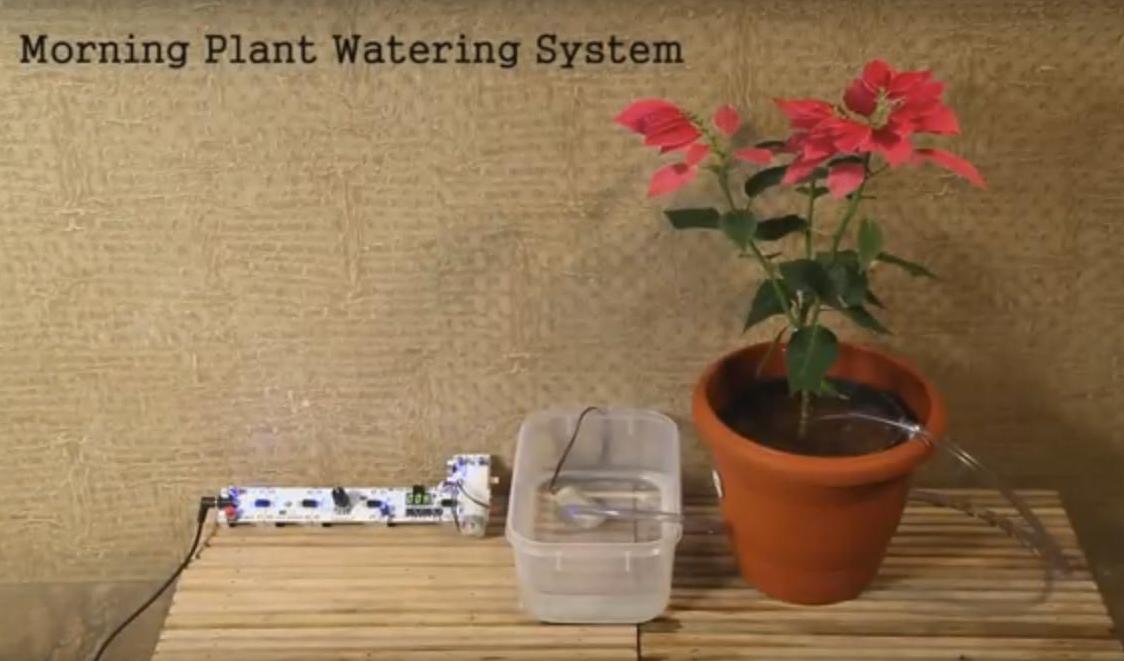 A Video of this project is available at https://www.youtube.com/watch?v=GzAeWa5wm_Y&t=44s